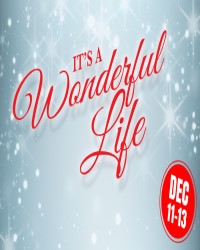 It's a Wonderful Life
When
Runs from Friday December 11 2020 to Sunday December 13 2020
Approximate running time: 2 hours
Venue
Event Notes
×
The Amarillo Little Theatre Academy and Sparkman Orthodontics are proud to present the holiday production It's a Wonderful Life. Based on Frank Capra's holiday classic movie, this play is sure to get your family in the holiday spirit.
It is Christmas Eve, and George Bailey stands on a bridge looking over the icy waters below, contemplating suicide. Clarence Oddbody, an Angel Second Class who, after 200 years, has yet to earn his wings has been sent to save him. Clarence soon takes George into the past reminding him of when he was a boy rescuing his brother from drowning, enduring a beating from grieving druggist Gower, saving a child from accidental poisoning, then growing up to forgo college so he can save the family business and keep the citizens of Bedford Falls from being ruined by the Depression and the sinister and conniving ways of Henry Potter. George goes on and marries his childhood sweetheart, has a family, and resigns himself to a life of "failure." When his Uncle Billy misplaces $8,000 of the Building and Loan's money, George takes responsibility and runs to the bridge to commit suicide. When George wishes he had never been born, Clarence makes the wish come true. By showing George what the world would have been like had he never been born, George realizes how many lives he has touched, how many people he has helped, and is reminded that this has been, after all, a wonderful life.
The play not only celebrates the faith of the season, it also celebrates the American philosophy of life: hard work, fair play and that the love and support of one's family and community will be rewarded.
*note that face coverings will be required for all performances. NO EXCEPTIONS.