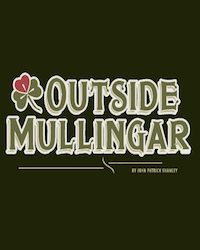 Outside Mullingar
When
Runs from Friday November 10 2017 to Saturday November 18 2017
Approximate running time: 1 hour and 30 minutes
Venue
Performance Notes
×
Amarillo Little Theatre presents OUTSIDE MULLINGAR by John Patrick Shanley.
"OUTSIDE MULLINGAR is a Valentine to the wonder and weirdness of love." - NY Daily News
The 2014 Tony Award Nominated play, OUTSIDE MULLINGAR, is written by award winning American playwright, screenwriter, theatre & film director John Patrick Shanley, the author of the play Doubt, A Parable and the film Moonstruck.
OUTSIDE MULLINGAR, a romantic comedy set in rural Ireland. Anthony & Rosemary are lovelorn farmers who haven't got a clue when it comes to love. These hopeless singletons will need to overcome a bitter land feud, familial rivalries & their own romantic fears to find happiness. Full of dark humor & poetic prose, John Patrick Shanley's tender-hearted portrait reminds us it's never too late to take a chance on love. This beautiful new play is a perfect opportunity for ALL of our patrons to check out the Adventure Space as it is rated PG-13. Make your reservations today!
Don't miss the Ovation Series Talk Back event on Sunday, November 12 immediately following the show.